Discover more from FlyRun Dot Fun
A blog about running, aviation, and travel. Including reviews of half marathons around the world. Subscribe for free. ✈️ 🏃
Lufthansa: Then, now, and next
One of my favorite airlines is soon getting better. Plus: Why it pays to think creatively on lounge access rules.
I've flown Lufthansa quite a lot in the past year or so. I flew them in both directions on the trip to run the Munich Half Marathon. And on one shortish-haul leg to run the Beirut race. And I've had some other flights — long and short haul — as well. So here are some reflections and reviews, as well as news of things to come.
Lufthansa reflections
Lufthansa has long been one of my favorite airlines. I recall flights as a child from London to Frankfurt and Stuttgart, when the flight attendants — stewardesses as they would have been referred to then (and they were all female) — handed out toys to the children and cigarettes in five-packs to the adults. I don't think there was even a separate smoking section.
Later, I recall delicious cold plates of hams and cheeses — "kalte Platte" — even on flights under two hours. A pleasant way to pass the time as one looked down at the German landscape with its tidy, well-defined villages and absence of sprawl. I recall one flight from Munich to Los Angeles in Economy not long after my younger child was born when a flight attendant insisted we had ordered low-sodium meals, when we had not, and proceeded to serve me a delicious Tafelspitz (braised beef) — possibly the best airline meal at the back of a plane I have ever eaten.
The drawback of Lufthansa for long-haul flying these days is their dated Business Class. The cabin service is usually excellent and the food and bev are typically pretty good. The bev in particular, except for the wine glasses, which are rather small and have a stem making them potentially prone to toppling with an accidental nudge, not that I recall having actually had a spillage. (When it comes to wine glasses — and especially on airplanes — I am a stemless sort of guy, both from the point of view of stability and pour size.)
But Lufthansa's lie-flat seats are circa 2014. They still have 2–2–2 seating, even on aircraft delivered relatively recently, with little privacy between the pairs. And on one version of the 747 still in service, it is 2–3–2 in the downstairs Business Class cabin. So if you are not in an aisle, you still have to figure out how to nimbly clamber over a row mate without disturbing their sleep.
I'm used to traveling in all cabins on many airlines and have paid my dues in seat 45E, and the like, on long-haul flights and am fine with that as part of the overall adventure. But if you are in Business Class, and especially if you are paying the big bucks to be there, you might expect direct aisle access from every seat these days — unless, perhaps, you are traveling with a companion.
"Allegris" (actually more than a legrest)
The good news is that 1-2-1 is on the way — Lufthansa has announced plans to upgrade its Business Class cabins, with spiffy new seats in new aircraft on order and a retrofit program for much of its existing long-haul fleet. In fact, a small number of aircraft with 1-2-1 seating went into effect early in 2023. But those were some 787s Lufthansa acquired due to a canceled order by China's Hainan Airlines. Those seats are different from the ones planned for Lufthansa's own revamped product. So right now, they are the best in the fleet. But they will become the less good ones in the future.
Lufthansa is calling its own all-new passenger cabin product "Allegris." This covers all four cabins (they are one of a declining number of airlines committed to having a long-haul First as well as Business Class.) I'm not sure about "Allegris" as a name. It sounds like some dull, mid-market sedan launched by a struggling car manufacturer in 2004. And, pronounced, it sounds a bit like "a leg rest," which may be the least you could expect from a fancy wide-body cabin in the 2020's. Hopefully the ad/marketing agency that came up with that name did not earn too high a fee for having done so. I suspect I could have done a better naming job for somewhat less.
But, name aside, the new Lufthansa product appears excellent. Going by the announcement, the new Business Class seems to check all the required boxes and more when it comes to privacy, flexibility if couples are traveling together, comfort features (including individually temperature-controlled seats), and so forth. In fact, the layout appears better than 1-2-1. Some rows are configured as 1-1-1. Other features includes wardrobes and minibars, but it is not cleat what these would amount to.
As well as what Lufthansa calls the "Classic" Allegris Business Class seat, there are six additional versions in terms of the degree of privacy, the length of the lie-flat bed, the amount of workspace, and so forth — all of which will apparently be available on the same aircraft. Having seven different variants might end up confusing. And it may increase the likelihood of some passengers feeling they did not get exactly what they wanted. It's not clear whether Lufthansa will aim to charge more for some of the more desirable seat versions, so that those roughing it in "Classic" will at least know they are saving a bit.
Among the Allegris innovations that's most welcome is in Premium Economy, where the seats — although not lie flat — recline within their own hardshell enclosure so they don't impact the row behind. Nice. There are also welcome enhancements in Economy, such as USB-C and even Bluetooth connection to the screens. First Class essentially gives you your own cabin with ceiling-high walls, double beds, and dining tables. Its design is more understated than the versions on Emirates and the like, but the luxury seems comparable.
But I would not count on getting on an Allegris plane until 2024. And even then, it will take a while before the fleet is fully configured, so there will be a period when experiences will vary across Lufthansa's route network and possibly even from flight to flight on the same route. So be sure to check out the actual seating configuration before you book. Unfortunately, Lufthansa — like many European airlines — does not always make that easy.
Even Lufthansa's newer 747 fleet — the 747-800's — are getting the retrofitted Allegris product. That's great news as it shows the airline isn't going to drop the Queen of the Skies any time soon as almost all of its competitors have done. Upstairs on a Lufthansa 747 is a treat even with the old seating. I recall a flight from Houston to Frankfurt shortly before the pandemic when I was able to snag an upstairs row of two to myself. Probably my best ever flight on the airline.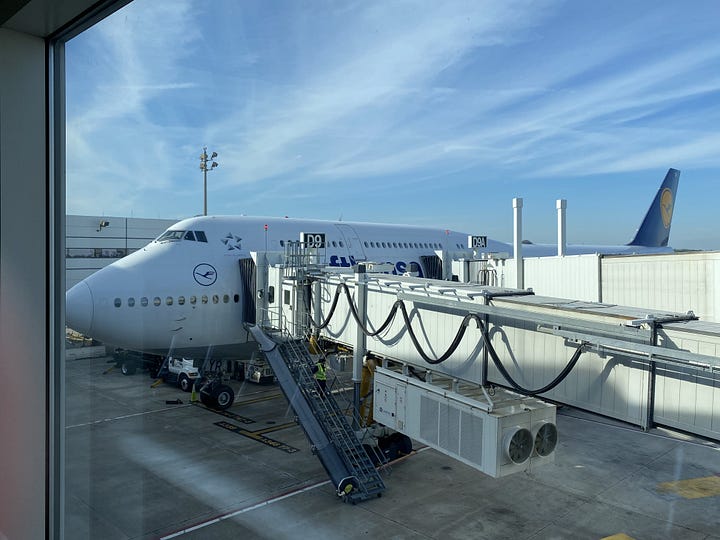 USA-Munich recent flights review
Dated seats notwithstanding, I like Lufthansa enough that I decided to go with them for my Munich Half Marathon trip — even though it wasn't to be on a 747. I was traveling standby on staff travel rates (as I'll probably explain in a future post, most airlines extend certain staff travel benefits to employees and close family members of other airlines). And the loads on United — the only other airline with nonstop service from the western USA to Munich — meant I was likely going to end up in a fairly crowded coach cabin. So paying the bit extra for Business Class on Lufthansa seemed well worth it. Of course, there are any number of indirect routes to Munich, but nonstop made sense as it was a short trip.
On the day of departure, the only LH flight that looked promising for Business Class was the one from San Diego. Loads were less hopeful from LAX or SFO, my two closest airports. So my journey began on Amtrak, a roughly six-hour train journey from my home town of Santa Barbara. I might have flown, but for the fact that Alaska — the only airline to have recently flown SBA-SAN direct — had just discontinued service.
Lufthansa is one of the most nonrev-friendly airlines. They sometimes confirm standby seats the night before. On this occasion, that didn't happen. I had checked in online, but arriving at SAN, thought I would swing by the LH check-in to see if they were ready to confirm me. Like the good nonrev passenger I am, I stood in the Economy line, even though I was listed for Business. But, when I got to the front, they told me I would have to standby at the gate, which was not a big surprise.
Some airlines prefer you don't introduce yourself to the gate agent when traveling standby until or unless called. Others prefer you make your presence known. And it can vary by airport. Not having flown LH out of SAN before, I approached a gate agent about 30 minutes before boarding was due to begin when no one else was lining up. She told me there were two open Business Class seats but they were defective with no recline, screen, or power supply. I wouldn't necessarily have minded that, but she thought the cabin crew wouldn't allow them to be occupied. However, she offered me a row of two in Premium Economy to myself. I counted that a win.
As I was lining up to board, I was paged to go to the podium. It turned out that 1C was available in Business after all. I was told the crew would still manually have to recline the seat because of a power issue, but that actually turned out not to be the case. The seat was fully functioning when I got there.
I had a great flight in 1C. "Very front," as my wife texted back when I told her of my seat assignment.
Not an especially memorable flight, perhaps. I'm writing this some weeks later (as this blog continues, I will try to post closer to real time). But unmemorable is not necessarily a bad thing. The food was pretty decent. Riesling was excellent. I read a novel for a while. And slept a fair amount. I've had transatlantic flights where I fall asleep before reclining to a flat position, and then in my half-sleep never get round to going flat. This was not one.
I did not converse with my row mate (something that would be easy to do given the less-than-private legacy seating arrangement). I usually don't, beyond cursory nods. Although I did have one flight from LAX to MUC earlier in 2022 where I chatted a fair bit with the amusing person seated next to me. She was traveling with her dog. I never realized you could travel with dogs in the cabin internationally. She was on her way to Sicily to work on an HBO production. I did not recognize its name, which seemed to surprise her, and then forgot it. Later I put two and two together and figured it had to have been White Lotus. (Which I have still not watched.) The dog was very well behaved, by the way.
Actually, the most memorable thing about this later Munich flight — the one from San Diego — was that I told a flight attendant I spoke some German and she then insisted that, as a game, all our communications for the flight be in German. Always good to brush up my skills, such as they are.
Flying back, I was expecting to be in Economy on the nonstop to LAX, which would have been fine. But as I got to the gate, I discovered a seat had opened up in Business on the Denver flight. So — with the help of a friendly gate agent — I nimbly switched at the last moment. Oddly, I went through the same rigmarole as on the outbound of being told it was a nonfunctioning seat only to find out it worked perfectly. It was an aisle in the center row, which is my favorite location when traveling alone in a 2-2-2 configuration (or in Economy for that matter).
Lufthansa short-haul business class
Lufthansa short-haul Business Class is really nothing special. I opted for Business on my recent Frankfurt-Beirut flight on an A321, but only because it increased the chance of getting on as other standbys were only listed for Economy. I flew Lufthansa Business between Frankfurt and London some months earlier for a similar reason.
As with many European airlines, Lufthansa short-haul Business Class consists of not much more than regular Economy seats with the middle one blocked off and some modestly upgraded catering — not nearly as good as the catering used to be in years gone by. The overall experience is fine, but nothing special. Perhaps the best reason to choose it is not so much the product in the air, but that you get to use a Lufthansa lounge on the ground if flying out of a city that has one.
That's one of the differences between short-haul flights within Europe and domestic First Class within the USA. In Europe, full-service airlines generally offer lounge access to Business Class passengers. And there is no access via paid or credit card annual memberships. In the US, with limited exceptions (such as Alaska), class of service in the air does not impact lounge access on the ground when flying domestically.
There can be gray areas as to what is "short" versus "long" haul in Lufthansa's route network. Last summer, I flew from Cairo to Frankfurt with my son — a flight comparable in length to the one to Beirut — and then we were on an A350 with lie flats. (But, it seemed, without the full long-haul catering experience — although I'm not sure as they'd anyway run out of Business Class meals, which is always a risk when traveling standby.) That was a whole different experience compared with the rather shabby A321 that took me to Beirut.
Lufthansa FRA Business Class lounge — and why you should think creatively with lounge access rules
I had a long layover in Frankfurt on my way to Beirut. Fortunately, I was able to get into the Lufthansa Business Class Lounge. I wasn't actually sure whether I was strictly entitled, as although I was listed in Business for my connecting flight to Beirut, I was standby — which doesn't generally unlock the door to a lounge (although there are exceptions). But I thought I'd give it a go, showing my United Club card and mumbling something about Star Alliance — and it worked.
It reminded me a bit of a time a few years ago when I made it into a British Airways lounge at Heathrow Terminal 3 when flying Virgin Atlantic from London to Los Angeles in Economy. I had a First Class boarding pass for a connecting flight later that day on Alaska, another One World carrier. And I used that as a reason why my One World Emerald Status — or was it my Admiral's Club membership? — should allow me into the BA lounge while waiting for my Virgin flight. And they agreed. Sometimes it makes sense to think outside the box in your interpretation of lounge access rules.
Lufthansa has a tiered lounge system and this was their entry-level one. It was pretty decent. Not great views, but sufficient to establish the fact that one is at an airport. And a decent lunch spread, with some tasty goulash that I enjoyed after a nap in a pod-style armchair. ✈️
Thanks for reading FlyRun Dot Fun! Subscribe for free to support this site and help promote its visibility. You'll receive emails every month or two alerting you to recent posts.