Discover more from FlyRun Dot Fun
A blog about running, aviation, and travel. Including reviews of half marathons around the world. Subscribe for free. ✈️ 🏃
Beirut Half Marathon 2022 review
A short trip to Lebanon to run an amazing race.
To go or not to go?
I thought long and hard about doing the Beirut Half Marathon.
Lebanon, as well as having decades of history as a volatile and, at times, violent place, was in the middle of an economic meltdown. People were, literally, "robbing" banks purely to withdraw their own funds. There was a cholera outbreak. Plus a political impasse as to who was meant to be in charge. And it didn't help that the city was still reeling from the world's largest ever non-nuclear explosion — theoretically and officially an accident caused by chemicals, but widely viewed as somehow connected to the country's chronic corruption and intrigue. Plus the fact that Lebanon is not exactly surrounded by peace and tranquility outside of its borders.
I'm OK with "edgy," but not with "dangerous." The difference is that "edgy" is what some might think of as "dangerous," but I conclude is not. So, for example, when I took my daughter to Iran and North Korea during her high school years around a decade ago, that might have raised some eyebrows. But I concluded that, at the time, those were not dangerous places to visit. (I wouldn't go to either now, however.) The same applies to when I went to Iraq with my son last summer as part of a High School graduation trip. We visited Erbil in the Kurdistan region. I would not have gone to Baghdad, but — as expected based on all the trip research I had done — we felt completely safe and very welcome in Erbil as we explored that great city and the surrounding area.
I was nonetheless on the fence about going to Beirut in November 2022. There can be gray areas in the "edgy/dangerous" analysis, especially viewed from afar. I was not particularly afraid of politically motivated violence. But it seemed, maybe, to be just a bit too close to the edge, combining all the factors.
I was wrong — it proved to be fine. What swung me, oddly, was that I inadvertently blew through the registration deadline for the race while prevaricating about whether to run it. It turned out you needed to have registered a month or so ahead of race day, and registration had only opened less than two months before that. The window was narrow. It didn't appear the race had necessarily sold out; the problem was that the last day to sign up had passed.
When I emailed asking for a waiver, I was met with a hard "no." The deadline was the deadline. I was impressed with their rigidity. I respect organizations that stick to their rules.
Fortunately, my brother knew people in Lebanon. And after some effort on my behalf, the organizers ended up reassigning the slot of a journalist for a UK newspaper who, after having registered, was unable to run the race. That way, I could take part without an additional place being created. And without one being wasted. At that point, I felt I had to go. It would have been churlish to have backed out after that intervention.
A few hours in Beirut airport
I flew from California via Frankfurt, first on United and then connecting to Lufthansa. My row mate on the flight from Frankfurt was a woman in her late sixties — she told me her age — who lived in California and was, immediately upon landing in Beirut, taking a taxi across the Syrian border to Damascus to visit her mother. That is an adventurous journey these days, all the more at nighttime. Across the aisle, an elderly man kept on holding out his glass in a rather unsubtle effort to signal to the Business Class flight attendant that he would like more scotch. I sipped some Riesling as the aircraft cruised over the Mediterranean before beginning a slow descent into Beirut.
Landing at Beirut at night is not ideal. There are numerous reports of travelers being scammed in various ways on the drive from the airport to the city center, no matter how official-looking the car and driver. What's more, the drive takes one through Hezbollah-controlled territory. Those guys don't appear to mess with airport traffic, but it's nonetheless not really the sort of area where you'd like to be driven in the dead of night by someone you don't trust.
Fortunately, my brother — he who earlier helped me get registered — had decided to go to Beirut on a jaunt to meet up with me. He was flying from London via Istanbul on Turkish Airlines and was arriving a few hours after me. A friend of his had offered to send his driver to meet him. So I decided to hang in the airport and hitch a ride with them. There was a 24-hour cafe in the arrivals hall, where they served Almaza Lebanese beer and from where I had a bird's eye view of drivers looking for their prey. Almaza, owned by Heineken, is a decent 4.2 percent Pilsener. I'd had it some months earlier in Erbil.
The driver who met us turned out to be outstanding. I learned later he had previously worked for a former Prime Minister. Not, I suspect, someone with whom anyone would want to mess either on the drive from the airport or elsewhere.
Phoenicia InterContinental Beirut review
I'm a bit of an InterContinental Hotels fan. Especially in the Middle East. InterContinentals tend to be somewhat iconic properties in that part of the world. Not necessarily the flashiest of upscale hotels, they nonetheless have something of a Grand Dame presence in many cities. The sort of places where you'd imagine war correspondents dutifully holed up in the bar during times of trouble. And often a social hub for local residents and expats in happier times. I'd stayed in InterContinentals lately in Amman, Riyadh, and Cairo. It seemed a no-brainer to book into the one in Beirut — the Phoenicia — for the race, especially as it was less than a 15-minute walk to the start and finish lines. Plus I have IHG "Platinum Elite" status via my Chase/United Airlines credit card, which generally results in upgrades and other perks.
By the time we got to the hotel, it was close to 4:00 AM. I am fairly skilled in the art of late check-out. Early check-in can be trickier, however. I wondered whether I could pull it off. I had managed to check in at the InterContinental in Amman at around 9 AM with no difficultly after coming in from Chicago. But I knew 4:00 AM was pushing it. And I'm not even sure the computer systems would allow it. Anyway, the very courteous night staff would not — or could not — oblige. And I don't blame them. They offered a reduced rate for the remainder of the night. My brother took them up on that. But I was too cheap. The thought of paying even $150 for a few hours sleep when I was confident I could snag a room at, say, 10 AM, did not appeal to the frugal traveler in me. Plus there was a large and comfortable public space with inviting armchairs and sofas. I chose to bunker down there and enjoyed a semi-delirious sleep interrupted by vacuum cleaners and other comings and goings as the hotel gradually began its day.
At around 9:00 AM, I went to breakfast. I love breakfasts in the Middle East. Flat bread, hummus, cheese, olives, tomatoes. A simple omelette.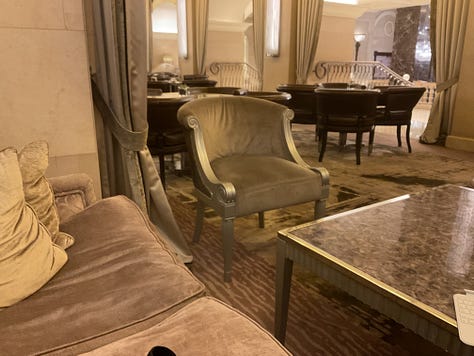 At 10:00 AM, as I had hoped, the front desk gave me my room. It had a balcony with a fine view over the Corniche and marina. Balconies are among my favorite hotel features. And corniches help define my ideal Mediterranean city experience (none more so than in Alexandria, but that is a topic for another post). The American dictionary definition of a "corniche" tends to emphasize that it is some sort of coastal road at the foot of a cliff. But the Mediterranean reality is different. There, it is a city center oceanside street with a spacious and usually lengthy pedestrian promenade. No cliff required.
Downstairs, the InterContinental had a semi-enclosed terrace. Public terraces are another key feature for me in choosing hotels. At this time of year, it was rather more enclosed than not, with some somewhat unsightly large plastic hanging curtains. But I can imagine it being a wonderful space on warmer days. And even in November, it was a pleasant place to chill.
Overall, I thoroughly recommend the Beirut InterContinental. Great service at all levels of the operation. Perfect location. Reasonably priced, at least during my stay. (The collapsing Lebanese currency makes dollars go far.)
Beirut impressions
Beirut in its most glamorous days was known as the "Paris of the Middle East." But it has been through tough times. I had been there a couple of times before, a very long time ago. One was when I was at university in the 1970s shortly before the start of the country's civil war. The other was a few years later during what proved to be a short-lived intermission in that drawn-out war.
The massive explosion in 2020 left much of the city again looking like a war zone, even though it was not a product of war — at least not directly so. It turned out that the InterContinental — which was badly damaged despite being a few miles away — had only reopened a week or so before my arrival, something I had not realized when booking. I was impressed by how quickly the city had, on the surface, recovered. And there is some striking modern architecture. But being in the city center can give a distorted picture. Those with access to foreign currency — or at least with tons of increasingly worthless Lebanese currency — can live very well. The refugee camps and shanty towns around the city tell a different story. And the middle class is suffering.
Before traveling to Beirut, I had thought I would barely venture out of the hotel other than to pick up my race packet and run the race. As it turned out, I felt completely safe. And my brother's friends could not have been more hospitable and generous with their time. We saw a fair amount of Beirut (the nicer parts, admittedly), had some great meals in Lebanese and Syrian restaurants, and travelled to the hills and mountains that overlook the city.
The race
The Beirut Marathon and Half Marathon — the two races take place at the same time and have overlapping courses — started in 2003. Over the years, it became the largest running event in the Middle East. Before the pandemic, over 45,000 people took part. The event became an important symbol in Lebanon, a putting aside of the city's struggles and divisions as people, literally, take over the streets in a united showing of collective, positive energy. More than just a race, the event became a statement.
The pandemic took a toll on the race, from which it has not yet recovered. The number of participants was way down in 2022 from pre-2020 levels. I believe, the total number of runners in all the distances was under 5,000. Part of the reason may be the loss of sponsorship from banks. I'm not sure whether the banks dropped the race, or the race dropped the banks. These days, banks have become toxic institutions for many in Lebanon, symbolizing the corruption and incompetence that have bedraggled the nation.
Packet pickup takes place over the best part of the week leading up to the race. It was in a small retail or office property in a crowded narrow street in a nice part of the city center. Oddly, it is not available on the day before the race — the Saturday — which is normally the most popular time for picking up race packets, unless, that is, you are an international runner. I went on the Friday anyway, as I wanted to allow time to clear up any problems to do with my late/substitute registration. As it turned out, there were no problems. My bib was waiting. And they had the shirt in the size I'd ordered. There was a small area selling some merchandise. Overall it was a low key affair, but friendly and efficient.
The morning before the race, I walked to the start to get oriented. Set-up was well underway. And early that evening, after a day out and about, I ate my usual pre-race pasta dinner on the terrace at the InterContinental. I'd already been munching my way through a bag of Trader Joe's bagels I'd brought with me to ensure my usual carb loading regime went as per normal.
Race day was Sunday November 13. I arrived at the start area a little before 6 AM. It was full of buzz and atmosphere, with a troupe of super-high-energy dancers on a stage performing to loud music to get the runners motivated. (I wish I had made a video of their performance, but at that point, I hadn't decided to do this blog.)
Lining up for the half marathon began at 6:30 AM, shortly after runners doing the full had departed. And we were off soon after 6:40 AM, with the temperature ideal for running.
The first part of the course is mostly along the waterfront, but it then heads inland taking runners on a tour of various neighborhoods including some fairly narrow streets, city squares, and a more industrial area. The Red Cross — an organization with a huge mission in Lebanon — had aid stations along the way, giving out water and nutrition.
In some ways, the fundamentals of running a half marathon in Beirut are not all that different from anywhere else, but there were reminders of where one was. Instead of the Highway Patrol officers who usually police races in California, there were groups of bored looking soldiers with submachine guns at the ready every quarter of a mile. And there were a couple of open drain holes that would have made for an unpleasant outcome had I accidentally run into one.
The course had variety, plenty of local flavor, and some nice crowd support along the way. Beirut definitely has hills and there were some in the race. But overall it was not a difficult course and the temperature never climbed beyond the high sixties.
A week earlier, I had run the Santa Barbara Half Marathon in my home town. Then — perhaps over-confident on my home turf — I took it faster than I should have. I was all set to go under two hours before my legs began to give out in the uphill toward the end, slowing me down considerably in the last two miles. So I paced myself more carefully in Beirut running pretty even splits averaging around a 9:30 pace and ending up with a time of a little under 2 hours 6 minutes. The high-energy dancers were again in full swing after I crossed the finish line close to where the race had started. No doubt they had taken a rest while everyone was still running.
The trophy
I was happy enough with my time, but did not give much thought to it. However, a few days later, when I was back in the US, I received an email — marked "Urgent!" — informing me I had come in second place in my Division and inviting me to an awards ceremony at a hotel in the city to receive a trophy.
I was briefly tempted to head back, as it would have made for a memorable occasion. Instead, however, I took up the organizers' offer to ship it by courier. It arrived by DHL a couple of months later. It turned out I was actually in third place, not second. A runner identified as being from the Lebanese Army appeared ahead of me according to the final results.
But third place was good enough and I was very pleased with my stylish trophy. I was third place in my Division in the Malibu Half in 2017, and also in the Santa Barbara Half in 2018. So maybe that is my destined spot.
Race sum-up and registration tip
It was an amazing experience overall. And the race organization could not have been better. Would I recommend it to someone who lives outside the Middle East? Yes, if you are a seasoned traveler or wanting to become one. But it can be a volatile part of the world, so do your own due diligence. What might seem like a good idea in one year might not be so wise in another.
Aside from being in good time, my other piece of registration advice to anyone thinking of running this race might be to consider signing up on worldsmarathons.com, which quotes in Euros, rather than on the official race site, which prices entries in Lebanese Pounds. This is because of issues to do with the rather artificial "official" Lebanese Pound exchange rate, which can result in your paying several times more. All of this could change, of course.
The return
About 15 hours after completing the race, and roughly 72 hours after landing in Beirut, I was back at the airport to catch a Qatar Airlines flight to Doha where I connected to Los Angeles.
Next race: Lisbon. (Had to cancel 2023 Miami.) ✈️ 🏃
Thanks for reading FlyRun Dot Fun! Subscribe for free to support this site and help promote its visibility. You'll receive emails every month or two alerting you to recent posts.