Discover more from FlyRun Dot Fun
A blog about running, aviation, and travel. Including reviews of half marathons around the world. Subscribe for free. ✈️ 🏃
HOKA Runaway Sydney Half Marathon 2023 review
Undulations Down Under. Plus: Sydney travel notes.
I made a short trip to Australia in May to run the HOKA Runaway Sydney Half Marathon. I don't always refer to races by their full names, sponsors and all. But "Sydney Half Marathon" on its own could be confusing, because the city actually has two major races of that distance. More about the other later. Plus, to further add to potential confusion, this one had just changed its name.
Race overview
This was the first running of the event under the "HOKA Runaway" name. HOKA, the shoe brand, is the new sponsor; Runaway, the new organizer. It's a rebranding of what was the long-established Sydney Morning Herald Half Marathon, an event going back about 30 years previously sponsored by the city's main newspaper. There were some course changes, but the "new" race is quite similar to the old one. Runaway is part of the IRONMAN Group, a U.S. company with various running and triathlon events in its portfolio, including the Rock 'n' Roll series.
The race takes place entirely in what's known as Sydney's Central Business District, or "CBD", the city's downtown area. As you'll know if you've been to Sydney, the CBD is hilly. So this is quite a difficult course. But also one with great city views. As the race website puts it: "An iconic CBD course right in the heart of Sydney, all on closed roads, with harbour views and some undulations to keep it interesting!" Indeed. That sums it up well.
The CBD is quite a compact area. So to fit in 13.1 miles — or, since Australia uses metric, 21.1 kilometers — there is a fair amount of looping back and forth, with some out-and-back segments.
To put the hills in perspective, there are also downhill portions. In fact, the race ends at a slightly lower elevation than it begins. So it is actually net downhill. But it doesn't feel that way when you run it. I find what you lose uphill is always greater than what you gain downhill.
This is a moderately large event. There were a little over 8,500 finishers in 2023. There's also a 10K, which had a bit over 2,500 finishers. So roughly 11,000 runners in all.
May is the start of the fall season Down Under, a great time for running. The leaves had begun to turn and the weather during the three days I was in Sydney was perfect — clear skies with high temperatures in the mid-sixties, lows at night in the high forties. It was somewhat blustery at times, but winds during the race weren't too bad.
Packet pickup and the absence of swag
Packet pickup took place over the two days before the race in tents in the forecourt of Saint Mary's Cathedral, a large Catholic place of worship. This is also where the race ends.
I went on the Saturday, a day after getting into Sydney. As I approached, I could see a crowd of people on the steps in front of the cathedral and heard someone on a loudspeaker. Not making out the words, I thought it was one of those pre-race briefings where someone talks about the course, so I hurried to get closer, wishing I hadn't missed the start and wondering whether it would repeat. But as I drew nearer, it turned out to be a rather intense portion of an outdoor church service with a small group of worshipers. It made for an odd juxtaposition, the runners collecting their bibs, with the intense service going on within hearing distance. The following day, those same cathedral steps were occupied by runners at the race finish.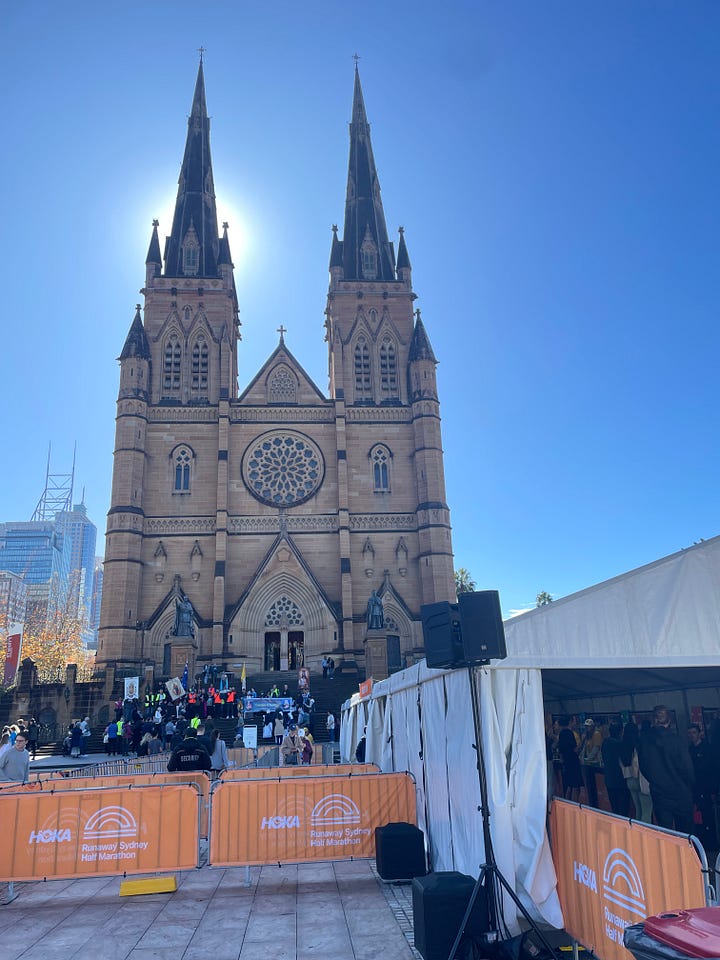 There was an alarming moment when they couldn't find me registered for the race. It would have been a bit of a blow to have come all this way for nothing (although I don't think it had sold out). Oddly, they found someone with my brother's name. But that resolved and I got my bib.
However, I got only my bib. This is a somewhat swag-less race. There is no shirt included. Or anything else at packet pickup (other than a small, unbranded mesh bag if you plan to use the race-day gear check). Maybe I knew about the absence of a shirt when I registered, but if I did, I had forgotten.
I know I don't need another race shirt. But I quite like getting them when I travel to races. They are more useful as a souvenir than a medal. It's not as though one gets to wear one's race medals later (in the way in which members of the UK Royal Family always seem to have masses of medals to wear on occasions of state). Although I suppose one could.
Apparently, there were opportunities to pre-order certain swag as extras — although I don't think shirts — but I hadn't done so and there wasn't much for sale at packet pick-up when I was there. That said, they did hand out small race-branded workout towels at the race end.
Of course, a potential benefit of not giving out shirts could be a lower race price. I paid AUS $130 — roughly US $85 — when registering about a month before race day. That's a fairly average price — perhaps on the lower end of the scale if you compare it with North American rates — but an amount that often does get you a shirt. (My wife — upon reading a draft of this post — thought the absence of swag was a great eco-move on the part of the race organizers. But I tend to think it was more of a cost-cutting move.)
Overall, packet pick-up was efficient, but underwhelming. It wasn't the sort of pre-race fest to get your adrenaline going. But mine was going anyway, having flown across the Pacific to get there.
Race Dots discovered
With my swag needs untended, I did find something else of interest for sale in the small race expo at packet pick-up — Race Dots. These are magnetic things that go on top of and behind your shirt to hold the bib in place instead of safety pins. I'd heard of these, but had never seen them. I've never been a fan of safety pins, or of the holes they make in shirts. And, oddly, in each of my last two races, Berlin and Istanbul, one of the pins came undone mid-race, causing some bib flapping — something that had never happened to me before in over a decade of half marathons.
So I thought I'd try out Race Dots on this race. This, of course, broke one of the cardinal rules of races — "never try something new for the first time on race day." But I'd feel a bit of a twit doing a regular recreational run of some distance wearing a race bib just to test them out. So I decided to take the risk. Read on to find out how it worked out.
Course preview
After the expo, I thought I'd check out parts of the course nearby. I had mixed views about doing this. One of the fun of aspects of running races in foreign cities is the unknown. So checking out the course beforehand can be a spoiler. But with some anxiety about the hills, I thought it might relax me to see a little of where I'd be running on the following day — in the sense of confronting the foe before engaging. I think that was helpful. And it was pleasant to wander in the Botanical Gardens, through which the last two miles or so of the course passes.
As part of my pre-race wandering, I also took some photos — including the one at the top of this post — where the course goes under the Sydney Harbour Bridge with the Opera House in sight. I never take photos during a race. It's not that I'm philosophically opposed. It's just that knowing my own weaknesses, I'm afraid that if I stop, or slow to a walk, I'll find it difficult to get going again. Sort of like when you think twice about shutting down the engine on an old, unreliable car midway through a road trip. It's something I've written about before — my maxim of successful running being "don't stop." Plus, I tend to obsess on trying to maintain fairly even splits.
That Saturday, I covered about 9.5 miles of Sydney on foot. I'm not sure it's a solid textbook strategy to walk that much the day before a race. But I love to explore cities on foot. And so this has become part of my routine when traveling to run.
Race start
The race starts about a half mile or so from where it ends near to the Cathedral. And there are a lot of hotels within a 20-minute walk. So race morning logistics are quite straightforward.
Other than the mass of gathering runners, there wasn't all that much going on in the start area, which takes place along the main street in which corrals are assembled and adjoining side streets. No bands or water stations or much else. You basically just show up and join your corral. It's in keeping with the relatively low-frills character of this race in general. And I don't say that negatively. It doesn't bother me. Plus it's not all that unusual. I'm just trying to convey the atmosphere of the start — functional, more than entertaining.
I didn't see a huge number of porta-potties. But the lines for those I did find weren't all that long. Maybe the Aussies are good at holding it. Amazingly, there was an attendant who walked up and down the row periodically checking that each porta-potty still had enough toilet paper and was in good order. I went twice, and she was there doing it both times. That's something you'd never see at a race in the U.S.
I was in the second wave. The first started at 7:25 AM. Mine was scheduled to go out at 7:42 AM. And having chosen that very precise time, they stuck to it — my corral started moving forward punctually but slowly as they funneled runners for spacing purposes. I crossed the start mat at 7:47 AM. There were two other waves behind me. They seem to enforce corral entry. I didn't notice anyone in my wave whose bib indicated they were assigned to a later one, which is unusual.
The HOKA Runaway Sydney Half Marathon race experience
This race — even more than most — is all about the course. It is a truly great and varied one. There are interesting urban views throughout. The best views of the Opera House come around mile nine, as you run under the Harbour Bridge. That is actually just before what's probably the hardest part of the race — the last four miles, starting as you make a steep climb to The Rocks, a low-rise, older, stone-bricked neighborhood with numerous restaurants and bars where I had my pre-race pasta dinner the night before. It's perhaps the hardest portion both because it contains some of the most challenging hills — mixed in with some decent downhill segments — and also because, coming toward the end, they hit you when you may be least up for dealing with them.
The middling portion contains some more flat miles, especially in the wharf and marina areas, which can leave you forgetting about the undulations for a bit. But my strategy was to keep some strength in the bank to finish as strong as I could, so I didn't go all-out during that portion.
It paid off for my modest purposes. My fastest mile was actually mile 12 in the Botanical Gardens, and the final mile was only actually a tad slower than the first. I finished in 2 hours, 9 minutes, and 23 seconds — which, while slower than my recent average — was at the better end of the range of possibilities I had contemplated for this more difficult race. That placed me 27 out of 66 in my division, which I was willing to chalk up as a win. That's the benefit of being a recreational runner, rather than a hard-core athlete. It doesn't take all that much to be satisfied.
It was one of those races where I really did enjoy the overall experience in the moment, not just in retrospect. And I feel that contemplating the hills before the race — and checking out some in person — helped mentally. It meant there was really nothing to surprise or demoralize me on the course. If anything, having angsted about the hills as much as I did, the reality was better than I had feared.
There were an adequate number of aid stations, giving out water in paper cups. I didn't notice them giving out anything else, but I might have missed something. There was very little in the way of course entertainment. Again, that doesn't bother me. The course was interesting enough in its own right not to have needed it. Other than at the end, there wasn't a great deal of crowd support.
The end of the race
Crowd support was definitely present and energetic in the last mile or two. That was when the course goes through the Botanical Gardens before ending up at the adjacent Cathedral. At one point, finishing runners were serenaded by cathedral bells, but I think that was part of the normal Sunday routine rather than something laid on for the race.
After crossing the finish line, there was little in the way of post-race sustenance, just more cups of water and apples. Once again, that doesn't especially bother me. I usually don't eat or drink most of what's offered. But I'm not sure I've ever been to a race of this size where so little was given out. The medals were also quite modest. But you did get the race-branded towel I mentioned earlier.
There also wasn't any post-race entertainment. Nonetheless, there was quite a festive atmosphere with many runners hanging out and enjoying the pleasant autumn weather with friends and family in the small park next to the Cathedral.
GPS in the shadow of tall buildings
Portions of this race took place in the shadow of tall buildings. It made me glad I had my Apple Watch Ultra, which — unlike regular Apple Watches and most other GPS-enabled watches — has dual-frequency GPS, enabling it to pick up L5 as well as L1 bands. That makes it a good deal more accurate when you can't count on continuous line-of-sight connections with satellites. Walking around Sydney, I found my single-frequency iPhone 12 Mini sometimes struggled to pinpoint my position using the Maps app. By contrast, my AW Ultra coped fine with Sydney's urban landscape.
Back to those Race Dots…
So I mentioned I was experimentally using those magnetic Race Dots to keep my bib affixed to my shirt instead of safety pins. The good news is they were great! I followed the recommendation to place one set in each of the two holes in the bib at the top, but to affix just a single set at the bottom in the center (even though they are sold in sets of at least four). This is to reduce the risk of the top and bottom ones sticking to one another if you bend over or lean forward. Those magnets are strong. The vendor claims tests have shown the magnets don't interfere with timing chips built into race bibs. And I encountered no such problem. A shout-out to the friendly folk at the Australian distributor.
The other Sydney half
The other Sydney half marathon — which has also been renamed recently — is now called the "Sydney Marathon 21.1 KM." It takes place in mid-September on the same day as the city's full marathon. The course is mainly in Sydney's Central Business District, but it starts on the other side of the Harbour Bridge so that runners cross the bridge as well as running under it. And it ends on the forecourt of the Opera House. It looks as though it might be a slightly easier course overall, although there are apparently some changes planned for 2023 that were not yet announced when I wrote this. I hope to run it, most likely in 2024.
Sydney travel notes
I had not been to Sydney for a very long time. It is a great, world-class city. I'll offer just a few random tidbits based on my short, three-night visit.
First, the Central Business Distinct is highly walkable. Yes, you do get to walk hills. But you barely have to use public transport. However, if you do, the trains, trams, and buses are highly efficient. It never occurred to me to take a cab or an Uber. Over the three days I was in Sydney, my step total was almost 85,000 covering a total of around 43 miles (including the 13.1 of the race).
On the day I arrived, I took the train out to Bondi Junction and then a bus to Bondi Beach where I ate a late lunch at a small sushi bar. From there — on the recommendation of my daughter who had studied abroad in Sydney while at college — I did the coastal walk to Coogee Beach a little over four miles to the north, where I had a couple of Indonesian beers before heading back to the CBD.
I stayed in a cool place called the Little National Hotel. It's a modern, high-tech, and reasonably priced boutique hotel in the heart of the CBD. The rooms were small, but nicely designed. And they had a room ready for me when I arrived at around 9 AM after taking the train from the airport to the stop right next to — or even under — the hotel. I especially liked the hotel's outdoor roof terrace and the indoor rooftop bar and work areas. I'd stay in that hotel again for sure.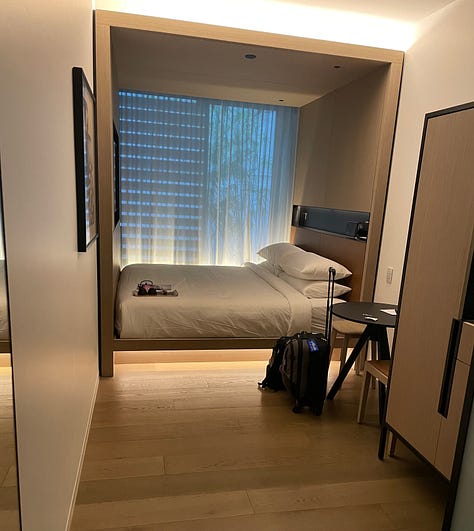 For my eve-of-race, carb-loading pasta differ, I went to an Italian restaurant called Caminetto in The Rocks, which served up a hearty portion of spaghetti in a partial outdoor area in a lively environment. On my last night, the Sunday, some restaurants in the CBD were closed. But I found a nice, friendly Japanese place called Kokumai, which has one of those sushi conveyor belts from which you pick your food. Earlier that day — again at the recommendation of my daughter — I visited a sort of Asian food court called Spice Alley, where I had Singapore noodles. (I noticed a "For Lease" sign, so hope it isn't due to close.)
The flights: Flights from the west coast of the U.S. to Sydney generally leave late at night and arrive early in the morning — except that, with the international dateline, you arrive two days later. So I left on the Wednesday before the race, arriving on Friday at breakfast time. I once used that trick going to New Zealand with my wife and then two-and-a-half-year-old daughter on the eve of what was to have been my 40th birthday, to avoid that birthday ever happening — thereby locking me in eternal youth.
The clock plays similar tricks going back, but the other way around. My flight back on the Monday — the day after the race — left at around 9:30 AM but landed at about 6 AM California time on the same calendar day.
I flew out from San Francisco on United, returning into Los Angeles on American. Although I can standby for Business on those airlines with our staff travel benefits, I ended up in the back of the plane in both directions — but there were a lot of open seats there, around 150 on the outbound and 100 on the return (both on 777s). This at a time when post-pandemic aviation chatter is mostly about packed flights. I had a row of four to myself on the outbound, and slept most of the way laying down, and a row of three on the journey home, again getting a lot of rest.
When I reached the departure gate at Sydney, I found American had "upgraded" me to a middle seat in Premium Economy, the last open seat in that cabin. But I "downgraded" myself back to regular Economy where I had much more room (something I'd always do in that circumstance, as discussed here).
The loads on most flights that week were pretty wide open, in fact. It seems mid-May is a great time to visit Sydney from the point of view of both the flights from the U.S.A. — whether you are a revenue or non-rev passenger — and the weather when you get there.
Service was good on both flights and the food adequately decent. I noticed American was giving out hot towels in regular Economy. I don't recall them doing that on transatlantic flights any time recently, so I'm not sure whether it is new or a transpacific thing. Hot towels at the start of flights have some utility, but also have symbolic value in terms of the signal they send about the level of service. In addition, I noticed American was now using wooden cutlery with the meals, in place of the usual plastic.
I spent an hour or so in the Qantas Business Class lounge in Sydney, which I could access with my American Airlines Admirals Club membership. It was pretty nice. Closer to an AA Flagship Lounge than an ordinary Admirals Club.
Race sum-up:
A fairly large race with a fantastic, varied course — including great views — in a world-class city. However, challenging due to hills. The race is efficiently organized, but distinctly low on swag and frills. ✈️ 🏃
Next race: San Francisco, July 2023 (more hills).
Previous race: Istanbul.
If you liked this post, please share it:
Thanks for reading FlyRun Dot Fun! Subscribe for free to support this site and help promote its visibility. You'll receive emails every month or two alerting you to recent posts.