Discover more from FlyRun Dot Fun
A blog about running, aviation, and travel. Including reviews of half marathons around the world. Subscribe for free. ✈️ 🏃
Dorkfest 2023 report
A gathering of avgeeks. Plus: 5 reasons I actually like LAX. And how Dorkfest closed a loop with the California Bar Exam.
Dorkfest is an annual gathering of avgeeks. For those not in the know, "avgeek" is short for "aviation geek."
About avgeeks
All avgeeks are passionate about aviation. But avgeekery is a spectrum. Avgeeks differ not only in their degree of passion, but also in the specific aspects of aviation that draw them into the spectrum.
Many are into "plane spotting." Those avgeeks typically have very fancy camera equipment with lenses at least the size of those cylindrical containers you get with pricier bottles of Scotch. And as they build their libraries of photographs, they amass vast — and truly impressive — knowledge about airline fleets and operations.
Others are more into the experience of flying, both as a passenger and/or pilot. Or enjoy the game of using points, information, and travel hacks — or staff travel benefits — to snag the best deals and seating outcomes. Some avgeeks fixate on the commercial and logistical aspects of the airline industry. Some are as obsessed with airports as they are with airplanes. For others, it is the intersection of aviation and travel, the plane being more of a means to an end.
I have dabbled in all of the above, including when I used to fly as a private pilot. As a dabbler, I may be a dilettante compared with those with more singular focus in certain regards. But I am nonetheless an unashamed avgeek (the all-purpose variety), quite far along the spectrum in my own way.
About Dorkfest
Dorkfest happens each September at and around the Los Angeles International Airport, better known as LAX. I believe it has been taking place for about 10 years. It is organized by Cranky Flier, an airline industry blog. And the full name is actually "Cranky Dorkfest." A New York group called NYC Aviation puts on a parallel event called SpotLAX, which is effectively part and parcel of Dorkfest itself.
The core Dorkfest event is a Saturday gathering at In-N-Out Burger. In-N-Out is something of a cult burger chain focused mostly on the western United States. The location at LAX is almost right under the last part of the final approach to runway 24 Right. There's a small park just opposite the restaurant. And from around 11 AM to 1 PM on Dorkfest day, avgeeks gather to eat burgers, mingle, and ogle/photograph the arriving aircraft as they roar right over, arriving from around the world, seconds before touching down.
The In-N-Out at LAX featured in my life long before I attended Dorkfest, as it was often a required stop when arriving into LAX with kids at the end of family trips. Or sometimes the subject of mildly heated disputes as to whether one should stop, as opposed to barreling straight back home. Often we'd order things that were not actually on the menu. True In-N-Out aficionados are never limited by the menu.
Dorkfest is not a huge event. I'd estimate there were several hundred people there this year. But it is nonetheless recognized and supported by the airline industry. This year — thanks to Cranky Flier's industry connections — there were raffle prizes donated by American, United, Alaska, Jet Blue, and Spirit. These ranged from free tickets to aircraft memorabilia and — in United's case — a behind-the-scenes tour of a UA hub of the winner's choice (the prize I would most liked to have won!). And there were other prizes donated by various businesses serving the avgeek community.
People attend from all over the country. Some fly in long-haul from other parts of the world. It's a quite diverse event, and I was impressed by the number of young avgeeks.
Aviation grandees sometimes attend, too. In 2019, the then CEO of United Airlines — Oscar Munoz — showed up and placed an order for 100 burgers to give away. (I learned that from his interview on The Next Trip podcast, of which more shortly.)
You don't need a ticket to attend Dorkfest. For the core event, at least, you just show up without registering. But most Dorkfest attendees spend a night or two in the LAX vicinity and — as detailed below — there are various pre-game and after-party events, a couple of which do require signing up.
Dorkfest 2023
This was the first time I'd attended Dorkfest. I flew into LAX on the Friday, a short hop from my home town of Santa Barbara about 100 miles to the north. And my son, a sophomore at the University of Miami, joined me, flying in from MIA.
We stayed at the H Hotel, a Hilton property that is part of its Curio Collection of more individualized properties. The H Hotel is the avgeek hotel of choice at LAX. The reason is that it has a large roof terrace with great runway views in all directions. There is seating on the terrace but, surprisingly, no food or beverage service generally available (although there's nothing to stop you from bringing your own refreshments).
The H is the de facto "official" hotel of Dorkfest. But Dorkfest is sufficiently chill and spontaneous that nothing is really that official.
That afternoon, we hung out on the H terrace. It's a great spot. I enjoyed a couple of cold beers, watching the planes go by and chatting to other Dorkfesters who were gathering (mostly with fancy cameras in hand). Without the terrace, the H would still be a solid choice as an LAX airport hotel, especially as it is walkable from the terminals. But, terrace aside, it is not remarkable and is, perhaps, more of an ordinary option than you'd expect from Hilton's Curio collection. And the Curio branding results in pricing a little above the LAX average. Still, if coming to Dorkfest, the H is the happening place.
That evening, there was a ticketed Dorkfest event on the terrace, with a bar. We didn't have tickets and it was sold out. But we were anyway planning on going to another pre-game event nearby. This was at a place called The Proud Bird just to the left of the approach end of the runways on the other side of the airport. The gathering was arranged by two of my favorite podcasts — Non-Rev Lounge and The Next Trip podcast. If you're interested enough in avgeekery and travel to be reading this, you really should listen to those weekly podcasts if you don't already. Non-Rev Lounge focuses on using staff travel benefits, but it's great listening for aviation and travel enthusiasts regardless of whether you have airline privileges. The Next Trip podcast focuses on all manner of things pertaining to the airline industry and travel. It also features interesting and entertaining accounts of the week's experiences at work of its two presenters, an airline pilot and an airport operations manager.
I've been flying in and out of LAX for decades, for work, fun, and various things in between, but had never heard of The Proud Bird. It's outside — but close to — the airport perimeter with a sort of food court and bar and large outdoor area, including a children's playground, as well as indoor seating. The outdoor area makes it a great place to spend an evening in close view of air traffic. The views are in some ways better than at In-N-Out as you aren't quite so underneath the flight path, meaning you have a better overall view of aircraft coming and going — even if you aren't as close to the actual metal.
We had some interesting conversations that evening, including on topics such as: "What would you name an airline that would come out of a merger between Alaska, Hawaiian, and Jet Blue?" No clear answer came out of that discussion, and it's a tricky question. Maybe academic. But some think we are not yet done with U.S. airline mergers, recent impediments notwithstanding.
The next morning, my son and I went on a Dorkfest LAX ramp visit. This was one of the things you had to sign up for in advance. Numbers were capped and there was a drawing for who got to go. You also had to be pre-cleared for security purposes. Ramp visitors had to check in at the Fly Path Museum, a small museum on the south side of the airport — which I'd also never heard of — close to the ground operations for cargo and private aviation.
The Fly Path Museum is a good place to learn something of the history of LAX, which began in the roaring twenties. As the official history recounts: "The burgeoning community of Los Angeles was struggling to meet the rising demands of the post-World War 1 aviation boom. Aviation was an exciting adventure in this land of Hollywood glamour." And thus began the setting up of an airfield on "a wind-blown bean and barley field" on 640 acres in what was back then still "the countryside."
The Dorkfest ramp visit had apparently — on at least one occasion — involved a tour where you got to ride in a vehicle to different parts of the airport. This year, it just enabled participants to enter a secure ramp area close to runway 25 Left, again with great views of arriving and departing traffic. The airport hosts graciously arranged shaded seating, provided donuts, played music, and handed out rather cool LAX-branded metal water bottles.
Next stop after the ramp visit was the core Dorkfest gathering at In-N-Out. In the afternoon, we spent more quality time on the roof terrace at the H. And then there was another event in the evening at The Proud Bird, this one a SpotLAX gathering arranged by NYC Aviation (and with it another raffle).
There were a few other Dorkfest gathering points — including on the Sunday morning — but that was the extent of our visit. Many thanks to everyone who arranged the event and made it so enjoyable.
We flew out early on the Sunday morning, before it was light. My son back to Miami. And me headed up to San Francisco in seat 1C of an Embraer to meet up with my wife who was flying there from Anchorage after coming off work. We were headed to London on a short friends-and-family visit. And from there I'd be going to Copenhagen a few days later to run one of Europe's largest half marathons. I'll be posting about that separately.
Five reasons I actually like LAX…
But before this post ends, a little about LAX as an airport and why I have a fondness for it. It's not all that often you hear people saying positive things about it. And I get the drawbacks. LAX can be a difficult airport to access with terrible gridlock in busy periods as cars pour in and out of the horseshoe terminal area. That said, help is on the way with a direct rail connection opening soon.
For me, LAX took a major hit when the Encounter restaurant closed. The Encounter was located in a sort of large spaceship-like construct built in 1961 in the middle of the airport — a strange blend of futuristic and retro, with great views. It wasn't part of any terminal, but was its own thing anyone could go to regardless of whether they were flying. We'd sometimes go there with the kids at the start of family vacations. The structure is still there, but it is now in disuse and its future seems unclear.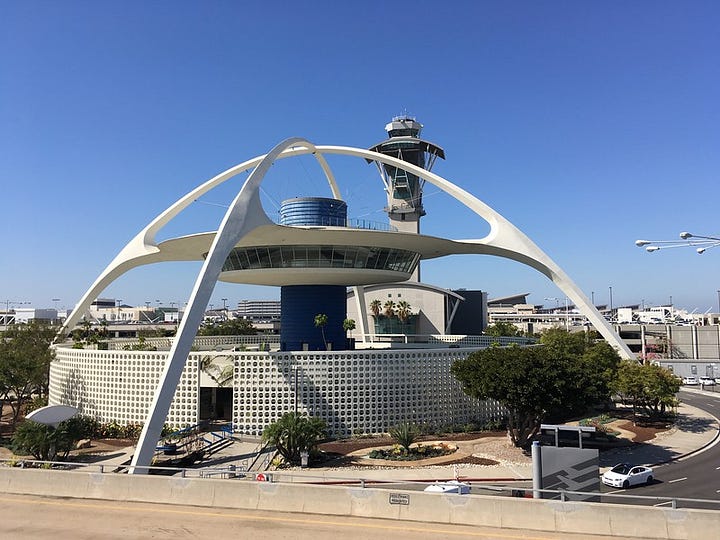 But despite the loss of the Encounter, I can think of at least five reasons why I actually like LAX…
Location: Most airports are stuck outside on the fringes of a city. For obvious reasons. But LAX is located literally in the heart of Los Angeles, the ocean on its west side, but central city areas abutting it directly to the north, south, and east. Los Angeles is obviously a huge city and where you need to get to/from may not be especially close to the airport. But I don't think there's another major international airport in the U.S. where you are so in the middle of things as LAX.

The new Bradley terminal: LAX is one of those airports where construction never seems to end. But the constant construction does yield some positive results. One is the revamped Bradley international terminal. It really is very nice, and compares with the types of terminals you'd expect in other parts of the world that have traditionally put more resources into modernizing airports.

Inter-terminal access: One of the most dispiriting things when traveling by air is having to exit and then reenter security to move from one terminal to another. Moving between terminals isn't only something you do when making flight connections. There might be some airport facility — a lounge, perhaps — you want to visit in another part of the airport. A great feature of LAX is that you can move between huge swathes of the airport without leaving security (assuming you are up for navigating the somewhat labyrinthine network of tunnels and passages, some with their own, sometimes quirky, character). That includes the terminals used by American, United, Alaska, and Jet Blue — and the aforementioned Bradley.

Lounges: LAX has lots of lounges, including pretty good ones. Not just

specific airline lounges, but also airline alliance ones — Star Alliance and One World. One of my favorite LAX lounges is the United Club, as it has an outdoor terrace in addition to its spacious indoor areas. I much prefer it to any of United's three lounges at San Francisco, even though the latter is the airline's west coast hub where you'd expect to see its better spaces. I haven't been to the new LAX Delta lounge, as I'm not in their ecosystem, but everything I've heard leads me to believe it is great. It, too, has an outdoor terrace — with an outdoor bar as well. One nice smaller lounge: Alaska. Nice ramp views, very friendly service (with a no-tip policy), decent free food. One big miss: Priority Pass. Right now, they have no LAX lounge or even restaurant taking their card.

The outdoor terrace at the United Club lounge at LAX.

Hotels: Usually when I stay in airport hotels, it's because I'm arriving late and/or leaving early. (Unless the reason is to go to Dorkfest, of course.) But waiting for shuttle buses late at night or early in the morning isn't a lot of fun. So I like airports where you can walk to a hotel. There is no in-terminal option at LAX. However, the Hyatt Regency is highly walkable and is generally my go-to choice, especially as their rates aren't usually too bad if you monitor them carefully. They also have a gym with great runway views. There are other walkable options, as well, including the H Hotel — discussed above in my Dorkfest report — and the Sheraton, which is the next one along Century Boulevard. But the Hyatt is closest to the terminals.
Which brings me to the Bar…
And that takes me to the last part of this post. I have special (traumatic?) memories of the hotel that is now the LAX Hyatt Regency, as it is where I took the California Bar Exam in 2002 — although back in those days it was a Raddison. I stayed in the hotel during what was then a three-day exam. I lugged in an electric typewriter on which to tap out my essays. Computers weren't allowed in those days. It was pen or typewriter.
I didn't leave the hotel once from check-in to check-out. It was the only time other than Dorkfest when I have spent more than one consecutive night in an LAX airport hotel. So staying at LAX for two nights for Dorkfest 2023 — 21 years after taking the California Bar Exam — closed a loop, knotting together aviation and the law, two things that have featured prominently in my life. 🛬⚖️
Thanks for reading FlyRun Dot Fun! Subscribe for free to support this site and help promote its visibility. You'll receive emails every couple of months or so alerting you to recent posts.