Discover more from FlyRun Dot Fun
A blog about running, aviation, and travel. Including reviews of half marathons around the world. Subscribe for free. ✈️ 🏃
72 hours in and around Maputo, Mozambique
Exploring Maputo. Plus a safari in a wildlife reserve that few tourists get to visit.
Less than eight hours after running the EDP Lisbon Half Marathon, my son and I were on a plane to Maputo, the capital of Mozambique — a former Portuguese colony. So this really was a fly-run sort of day. Or maybe a run-fly one. We were on the ground in Mozambique for just three nights. But we packed in a lot. Here's a trip report and a bit of background.
A troubled past
Portugal hung onto its colonies in Africa longer than Britain and other European colonial powers. It took the collapse of the Portuguese dictatorial system for the country to let go of them. So Mozambique only gained independence in 1975.
Zamora Machel became the first President of the independent country, allying it closely with the Soviet Union and Cuba. His FRELIMO movement — short for the The Front for the Liberation of Mozambique — had waged a guerrilla war against the Portuguese since 1964.
But independence did not bring peace. Under Machel, the country promptly fell into a civil war that lasted almost 20 years. This was something of a proxy for the Cold War, with apartheid South Africa and white Rhodesia also playing a hand in backing the anti-communist forces, the largest of which was RENAMO, the Mozambican National Resistance. Over a million people died either in the fighting or from starvation caused by the strife.
With the collapse of the Soviet Union and white rule in Southern Africa, the war eventually fizzled out in a stalemate, but FRELIMO emerged with the upper hand in the ensuing political settlement.
Machel continued to rule until 1986 when his Soviet-built presidential Tupolev Tu-134 jet crashed while returning to Maputo from a meeting in Zambia, killing most on board including him. In the years that followed, subsequent FRELIMO-led governments moved toward free markets and varying degrees of democracy.
Exploring Maputo
FRELIMO remains in power today. And while the country has largely embraced capitalism, the trappings of its Marxist past remain. Some buildings in the city center look like they were designed by architects trained in Moscow or Bucharest.
Many streets in Maputo are still named after socialist heroes. We found ourselves walking along streets named after Marx himself, Engels, Lenin, Mao Tse Tung, Kim Il Sung, and various African socialist and anti-colonial leaders such as Nyerere and Mugabe. Oddly, we didn't notice one named after Castro. Some of these streets intersect, so you could tell someone with a straight face to meet you at the corner of Mao Tse Tung and Kim Il Sung. The one upscale supermarket we came across — catering to the city's more affluent — was also named after Mao.
Maputo, a city of over a million, lies at the very south of the country, around 1,000 miles from the northernmost border. It's quite close to South Africa and Eswatini to the south. Prior to independence, it was named Lourenço Marques. It's a walkable city. Many streets are lined with trees. There's quite a fine park — or botanical garden — in the center. Some streets retain an old Portuguese colonial flavor.
Other parts remind one that Mozambique — mostly a Christian county — also has a Muslim population, a legacy of centuries-old trade with the Arabian Gulf. But most of the Muslim population is farther to the north.
We felt quite safe exploring Maputo on foot during the daytime, although did not venture out after dark. That isn't to say there is no risk of daytime street crime. But perhaps because the city receives relatively few tourists, there isn't a well-developed industry of scammers, hustlers or thieves constantly trying to separate foreigners from their money or possessions. The overall vibe is quite chill. And we found people we encountered were friendly.
It's not a city that's all about visiting the "sights." It's more a place to wander to soak up vignettes of street life. But it does have a rather fine railway station, a remnant of the colonial past, as well as a stylish cathedral.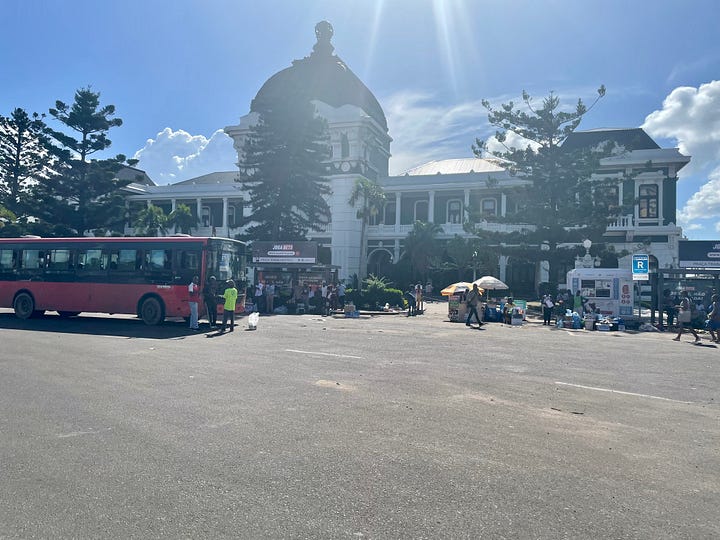 Near the station, we walked down Rua do Bagamoyo — apparently once known as "Street of Trouble" — which still serves as the city's red light district. A few ladies of the night were plying their trade in the middle of the afternoon. Elsewhere, we saw a rather elegant, tumbledown building called the Vila Algarve that used to be a torture center in colonial times.
We found a self-guided walking tour that took us around much of the city. But on our second day, we hired a guide to take us to Mafalala, an area that some compare to Soweto in Johannesburg or the favelas of Rio.
Mafalala — a maze of dirt streets and alleys with simply constructed dwellings with corrugated iron roofs — grew up when the center of the city was reserved for the Portuguese. It wasn't that we felt we necessarily needed a guide for reasons of safety (although the guide did warn us of risks in some parts and we were briefly accosted by someone demanding the rather specific sum of $50 before being made to go away). It was more that having a guide take us there better connected us with the place and literally opened doors we would not otherwise have gone through. Although I love independent exploration, there are times and places where having a guide is the better way to go.
Mafalala was home to many who shaped the political, cultural, and sporting legacy of post-colonial Mozambique. Machel himself came from there. As did the great footballer Eusébio who played on a dirt field in Mafalala before joining Sporting de Lourenço Marques and then moving to Lisbon in his late teens after being scouted by Benfica. While Eusébio's career was ultimately defined as a player for Benfica and the Portuguese national team, he remained a hero in Mafalala.
Today, life is still hard in Mafalala. One of the most visible aspects to the casual visitor is the inadequate drainage, resulting in pools of standing water that fuel endemic malaria. But life moves forward. Kids go to school in tidy uniforms. And there's a local service economy busily tending to the community's needs. Our guide told us anything that needs fixing can be fixed in Mafalala, demonstrating the fact by removing his trousers so that a man sitting on the side of the street with an ancient sewing machine could stitch them up. We got to visit a community action organization that — with funding from the European Union and elsewhere — works away at trying to make life better.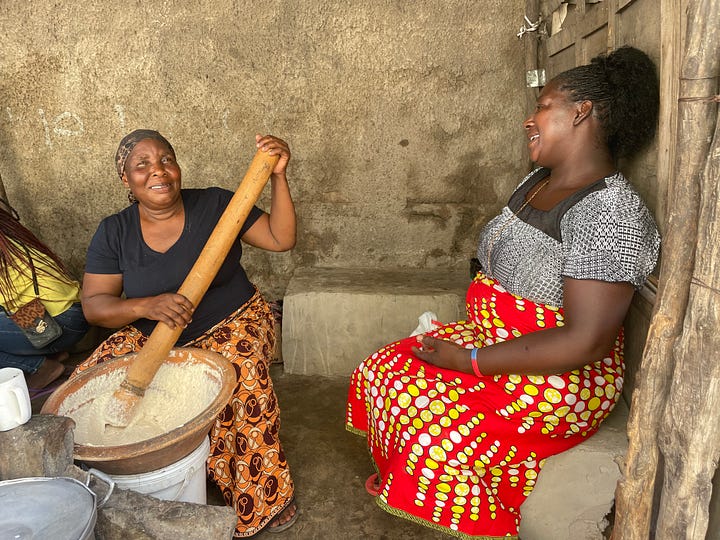 Elsewhere in the town, we saw some slightly grim looking apartment buildings. They looked as though they had gone up in the eighties, perhaps as some "forward looking" policy of creating housing alternatives to Mafalala. But I couldn't help feeling that, given the choice, I'd opt for Mafalala.
Mozambique safari
On the next day, we headed out of town to visit the Maputo Special Reserve, a wildlife reserve covering roughly 400 square miles about an hour's drive from the city.
Leaving the city, we crossed the recently constructed Maputo-Katembe bridge, a suspension bridge across Maputo Bay, which connects the capital with a suburb on the south side. The bridge — which was built and financed by China — opened in 2018 and became the longest suspension bridge in Africa. The idea and design were influenced by the 25th of April Bridge over the River Tagus in Lisbon. A few days earlier, we had run across that bridge at the start of the EDP Lisbon Half Marathon. The bridge across the Maputo Bay was originally to have been financed by Portugal, but economic woes besetting the former colonial power prevented that from happening, creating an opening for China.
The Maputo Special Reserve — previously known as the Maputo Elephant Reserve — goes back to the 1930s. Its wildlife population was devastated by the civil war, but has gradually been brought back, despite a continuing problem with poachers. We had a guide/driver who picked us up at our hotel in Maputo and took us there in a Land Cruiser. Four-wheel drive is essential to navigate the dirt roads that traverse the reserve.
We had close encounters with elephants, giraffes, zebras, warthogs, red deer, countless impala, and various other hoofed herbivores. We saw some hippopotamuses from afar. And we got a fleeting glimpse of a crocodile. There are monkeys, but we didn't see any. It's not like some wildlife parks in Africa, where the animals are so plentiful that it's almost like a zoo "safari park." We were quite fortunate in what we saw, but you can't count on getting close to anything other than impala and the like. However, the flip side is you don't see a lot of other tourists. We saw only one other vehicle with tourists during our almost eight hours in the park. And a skilled driver/guide will know the places where you are most likely to see wildlife — and have an eagle eye to spot it from afar. We could not have been happier with ours.
One thing you won't see in the Maputo Special Reserve is a lion or any other type of cat. Because there aren't any. Efforts were made to settle cheetahs, but poachers got the better of them. There are apparently plans to introduce lions or similar at some point in the future. It would certainly help attract visitors. Tourists like lions. And it would also help balance out the reserve by providing predators. Right now, the only predators — other than poachers — are jackals.
The east side of the Maputo Special Reserve abuts the Indian Ocean. We stopped for lunch and a beach walk at a lodge on a stunning piece of coast. My son took a brief dip in the warm ocean.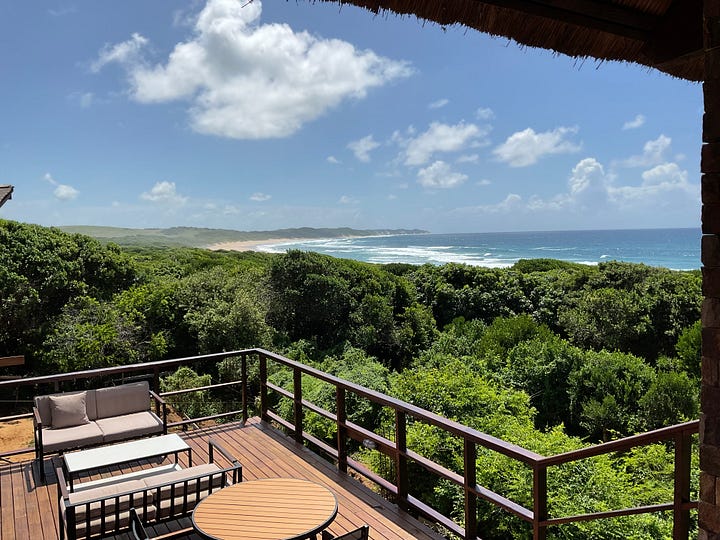 You can also do day trips from Maputo across the border to the Kruger National Park in South Africa. There, you'll likely see more wildlife, including lions, but also a lot more tourists. It is a heavily visited park. I wasn't tempted. We'd come to see Mozambique.
Mozambique logistics
Getting into the country: Not many airlines fly to Maputo. We flew on TAP Air Portugal, which plies the route from Lisbon several times a week. Other options include Qatar Airways and Ethiopian Airlines. As of March 2023, US citizens — among others — could get a visa on arrival at Maputo Airport. The cost is $50 and you can pay by credit card or cash. This fact did not prevent a suspicious gate agent at Lisbon airport from demanding to see our visa. He conceded the point somewhat reluctantly, saying we could board the flight because we were transiting Lisbon — a reasoning that made no sense on multiple grounds, not least the fact that we were not transiting in the normal sense of that term. Even when we arrived at Maputo, an immigration official asked to see our "letter of invitation." But he did not appear too bothered upon finding out we did not have one and passed us on to someone else. Immigration processing at Maputo airport is a slow process, but the officials were good humored and we just went with their flow.
Getting from the airport: It's easy to get a taxi from the airport. You shouldn't have to pay more than MZN 1,000 in local currency — about $15 — to get into the center of the city, but if you find yourself paying MZN 1,500 you are within the mainstream range of overcharging and I wouldn't stress about it.
Hotels: We stayed at the Polana Serena, a fine 100-year-old restored hotel overlooking the ocean and now owned by a South African chain. The least expensive rooms are not in the main building but in a sort of more modern annex built into the bluff top, so that you walk down some stairs to get to them. I liked those rooms as they had balconies, which the pricier ones in the main building do not. The service at the hotel was generally excellent and staff could not have been more friendly. Food was decent and served in very agreeable surroundings, including locations outdoors. I mostly ate grilled fish while in Mozambique.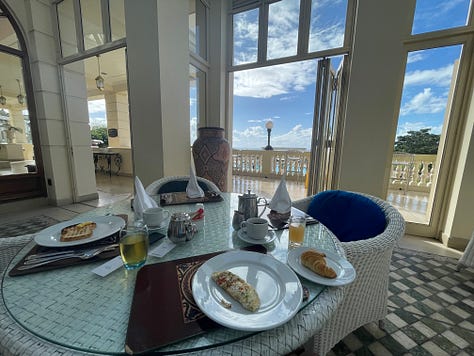 The hotel has its quirks, such as when — bizarrely — they wanted to fumigate our room against insects with what they called a "moderately toxic" substance while we were staying there. A notice posted under our door warned this could cause "some discomfort" and advised us to "remain calm." Needless to say, I made sure that did not happen. While we were out for the day, I even placed a chair against the door so as to detect whether anyone had entered to spray the toxic substance in our space notwithstanding management assurances it would not happen. One of the staff told me our objection became a viral topic in a WhatsApp group chat for hotel staff. Overall, I recommend the hotel.
Other places to consider include the Cardoso Hotel and the Hotel Terminus, both centrally situated. There's also a modern Raddison Blu a little further out. That might be a good pick for business visitors, but you may be cutting yourself off a bit from city buzz if you stay there.
Cafés and bars: There are lots of cafés and bars scattered throughout town. One to which I wanted to give a shout-out is the Café Acacia, close to the Hotel Cardoso. Seating is mostly outdoors, with great views down toward the estuary. It's a popular hangout for locals and expats. And the food was very good — we ate grilled shrimp and some sliced steak, both served in tasty sauces with garlic bread.
By the way, although there are theoretically quite a variety of Mozambican beers, the one that you are most likely to get — often the only one — is "2M," short for "Mac Mahon," a refreshing, crisp lager that shouldn't set you back more than two or three dollars.
Malaria: There is malaria in and around Maputo. I'm not sure how great the risk is in places visitors are likely to spend the most time, and it may be seasonal, but we took a course of Malarone as a precaution. However, there were actually very few bugs in evidence while we were there in March. We saw many more millipedes than we noticed mosquitoes.
Tours: We used Tours Maputo for our excursions to Mafalala and the Maputo Special Reserve. They were responsive and easy to deal with, the guides were excellent, and everything proceeded on time and reliably. I recommend them. We made the arrangements over WhatsApp only after we landed in the country. Our tours were private with no other visitors, but — depending on the day and what you are paying — you could find yourself sharing. ✈️
Thanks for reading FlyRun Dot Fun! Subscribe for free to support this site and help promote its visibility. You'll receive emails every month or two alerting you to recent posts.